All About Brush offer the following Services
Hand thatched brush fencing - height is flexible

Supply and install - Brush fence panels

Repairs & Maintenance Our Specialty - Adding hand crafted roll tops, wood capping, repairs to old fences, adding height, repair dog holes, repair & paint baseboards.

Add height to existing fences - great for privacy

Facelift the old tired fence - adding years to it's life !

Brush huts

Brush cladding

Bird feeder pole house

Brush gates

Workmanship Guarantee

Exceptional craftsmanship

Professional team, reliable, honest, careful, courteous, neat & tidy

Insurance claim work

Prompt competitive quotes

We are a fully insured company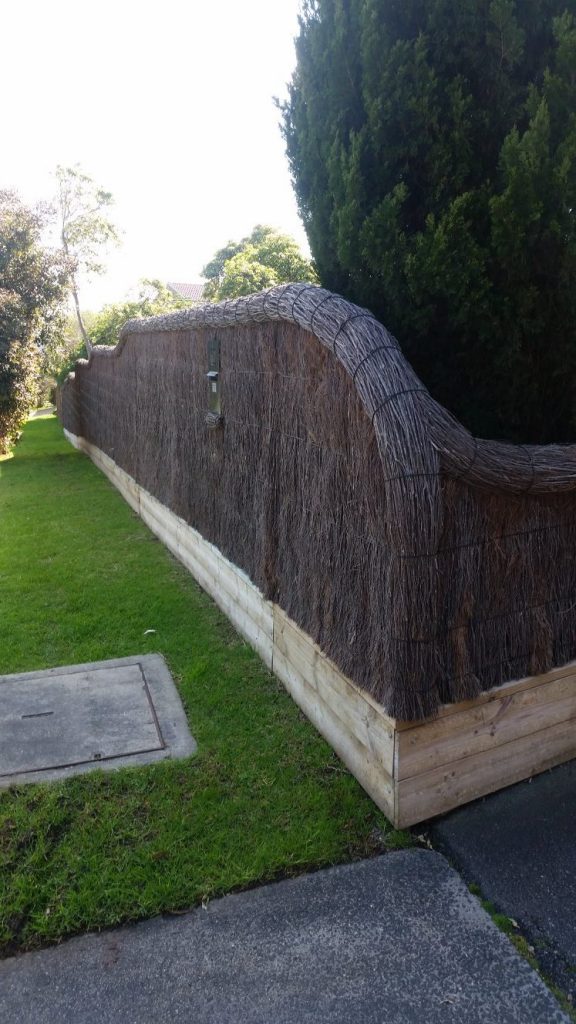 Why build a brush fence……
A brush fence is built from tea tree sticks, actually it's a Melaleuca Uncinata. It's sustainable, organic and natural. The tree is harvested and cut by hand using a machete and it re-grows approximately every 7 years.
A hand thatched brush fence can be designed in many different ways and given Rob's decades of experience, he loves the flexibility of what is possible to create. Mostly constructed around a steel frame it is built to last for many many years. Often Rob will use a black PVC coated wire instead of the standard silver as it's an additional feature, a real specialty adding further style to your brush feature fence.
Brush also offers very good accoustic qualities, excellent for reducing traffic noise. Hand thatched brush fences can follow the topography of your land and a major benefit is the ability to vary the height from about 500mm to 4 mtrs. Heights above 2 mtrs. normally requires 3 -4, or even 5 stage packing which is just more layers of brush. And best of all, a great brush fence looks fantastic and really adds value to your home.
Protecting your fence – why add a roll top vs. capping
It's always advisable to cap the fence to protect the top edge of the brush from weathering and deteriorating. Some people ask for a timber capping, but Rob's specialty is adding a hand crafted roll top and there are very few like his in the market place. They are a standout !! Rob also adds a layer of DPC damp course concealed between the fence and the roll top. This gives the fence that additional protection and provides longevity to the overall fence, adding years to its life.. What happens if you don't cap your new brush fence? Well you're asking for trouble in about 7 – 10 years as the top begins to wear and your fence deteriorates.
Brush Gates
Brush gates do have a place, they can look beautiful and be functional. They are not always a cheap option and due to their weight they need to be well built and strongly supported.
Why have "All About Brush " build your feature fence ?
Because you want the best fence around, of course !! When Your fence is more than "just a fence" We provide amazing service, personalised design and construction, efficient and highly skilled tradespeople to fulfill on your project We're reliable, professional, careful and courteous. You'll love having us around !! Our customers can speak for our product, please see our "TESTIMONIALS"
Contact Us Today
We'd be delighted to discuss your plans and idea's – Call for an obligation free quote
Give Us a Call For Your Next Fence Install : 0490 338 428
© 2016 All About Brush Pty Ltd.